Located in Alexandria, Cast It Studio is equipped with the highest quality recording equipment in the industry so that you can confidently record your podcast in a professional and comfortable environment.
Our podcast studio is 30sqm
A quiet space to record and interview
Chairs and mics for up to 4 people and a lounge
Bookings available on weekdays
Located in our modern and bespoke coworking space in Alexandria
When you join Workit Spaces, you get access to our podcast studio.
STARTS AT $150 FOR 1 HOUR FOR NON-MEMBERS
Not ready to become a Workit member? Hire our podcast studio. Our team will help you get set up and start recording.
FACILITIES
Get access to a private and quiet setup with a range of facilities including in your booking.
STUDIO SPECS
Size: 23sqm studio with a large table, sound deadening walls and a couch
1000Mbps high speed internet and secure network
RodeCaster Pro Pack
Sennheiser HD280 Pro Monitoring Headphones
4 x PodMac DS1 & XLR Cables
AC available (inaudible)
Capacity: 4 people
Private and quiet studio
Loading dock access and option to book a car park
OTHER
Access to a premium facility located in the heart of Alexandria (opposite the Grounds)
Break out areas and in-house cafe
Catering available – upon request
Full kitchen and fridges
Unlimited tea and coffee
Shower available on site
Lighting and camera equipment available at CameraHire (with Workit discount)
7min walk from Green Square or Mascot stations
COST
1 Hour – $150
2 Hour – $300
Half Day – $500
Full Day – $900
Podcast studio comes with these spaces
Get free access to our photography studios by becoming a Workit member.
Serviced Offices
From $105/week/person, we provide secure, serviced office spaces with a view. Perfect for both individuals and companies with 1 to 200 employees.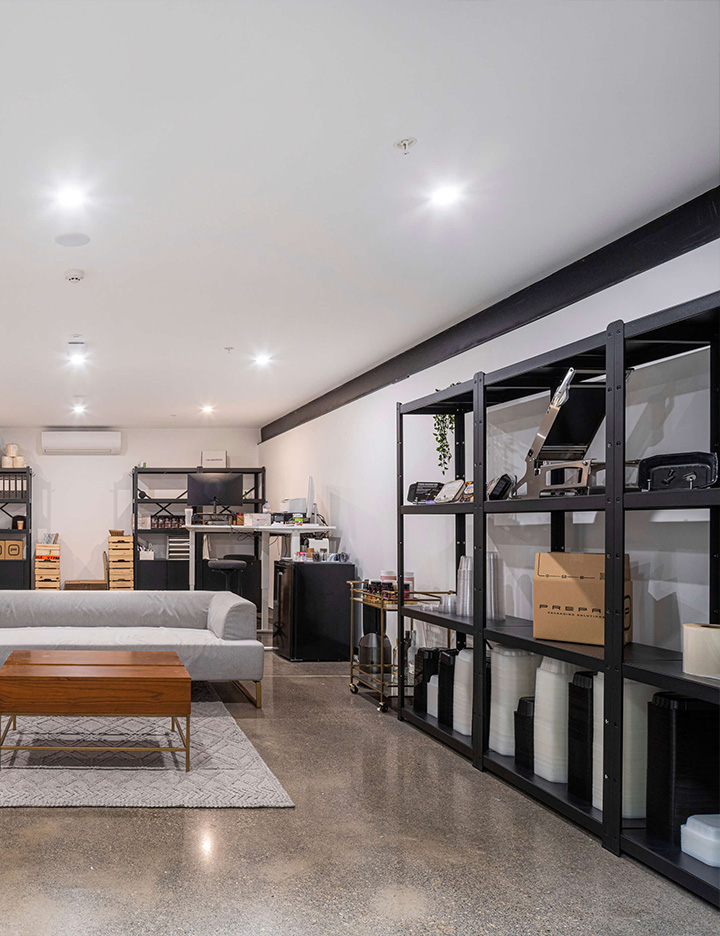 Showrooms and Storage
From $150/week, we provide secure showroom and storage. Showcase products, store products, or use as office space.
Available at this location
You'll find podcast studio at our eCommerce Hub in Alexandria.
Bourke Rd, Alexandria
Our latest eCommerce Hub on Bourke Rd, Alexandria has showrooms and storage, serviced offices, dedicated desks, virtual offices, a meeting room, photography studio, cafe, bar and distillery. Easy access from Redern and Green Square stations.
Book a photography studio
Not ready to become a member? No worries! Book a photography studio now.
Get access to our photography studio, equiped with a large cyclorama and a product cyclorama. Bring your professional photographer, do it yourself or utilise our in-house professionals. No equipment included. However, you can hire equipment from Camera Hire on-site.
Join our thriving Workit members
We're trusted by some of the best global and local businesses.








Book a call now
Interested in joining our space? Book a tour and discuss your needs.
About
Learn more about the Workit Spaces story and our co-founders.
Blog
Read articles about eCommerce, running a business and more.
Gallery
Visit our photo gallery to get a better feel of our coworking spaces.
COVID Reality
Our COVID Reality videos show the experiences of Workit businesses.
Our Women
Hear from the Women of Workit and their diverse experiences in our hub.